Spot the Dot
We here at Winter Equipment always strive to have the best safety programs to keep our employees safe.
Meet Kevin Hildebrand:
Kevin has been an important part of Winter Equipment's safety education and upkeep. Among many other contributions to the company, Kevin helps implement all of our safety standards and programs.
Safety Program
One of our newest programs that we have recently implemented is called "Spot The Dot." The program is designed to keep employees aware of their surroundings and potential hazards.
Spot The Dot consists of codes represented by the following colored "dots" :
  red (severe)
  yellow (needs attention right away)
 green (could become a hazard)
The colored dots will be placed in the area where there is a safety concern coordinated with the severity of the hazard. When an employee finds the dot they bring it to the safety director and explain what the problem is and how to resolve it according to OSHA standard.
After all the steps are completed the employee is rewarded with a  prize and also a mention in our monthly employee news letter . At the end of the year whoever has the most dots collected will receive a larger prize. So far this program has worked with great success and we are getting great feedback from our employees.
Here are a few safety tips to remember when working in an warehouse/manufacturing environment:
     Prevent slips, trips and falls
Report and clean up spills and leaks.
Keep aisles and exits clear of items.
Replace worn, ripped or damage flooring.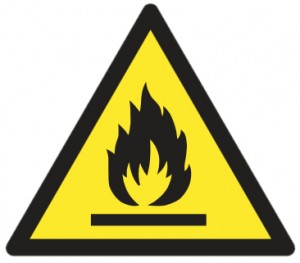 Eliminate fire hazards
Keep combustible materials in the work area only in amounts needed for the job. When they are unneeded, move them to an assigned safe storage area.
Store quick-burning, flammable materials in designated locations away from ignition sources.
Avoid contaminating clothes with flammable liquids. Change clothes if contamination occurs.
   Avoid tracking materials
If the materials are toxic, industrial hygiene testing, uniforms and showering facilities might be needed. Employees who work with toxic materials should not wear their work clothes home.
   Store materials properly
Unused materials and equipment should be stored out of the way of workers. Avoid using work spaces for storage and remember to put everything back in its proper place.